For more than a decade, the Studio's stuntmen, under the direction of stunt Coordinator Alexey Silkin, have been working on the projects of film Director Marius Weisberg.
The Director, who has made such films as" Love in the Big city", "Grandmother of easy behavior," Flyaway crew", likes to shoot sparkling, funny, and most importantly, trick movies.
And it certainly succeeds. Not for nothing, the legendary Director of Soviet cinema Alla Surikova at the "smile, Russia" film festival gave the main prize for the best trick Comedy to the film by Marius Weisberg " Grandmother of easy behavior-2. Elderly the Avengers".
The main "distinctive feature" of the film "(Not) an ideal man " was the participation in the main role of not a professional actor, but a singer Egor Creed.
A wonderful cast, helped the stunt Director and film Director to make the stunt scenes the most spectacular. So in the fight scene Egor Creed and actor Roman Curtin worked without doubles-stunt. As for the Novel Kurzyna, then he has huge experience as an actor-stuntman.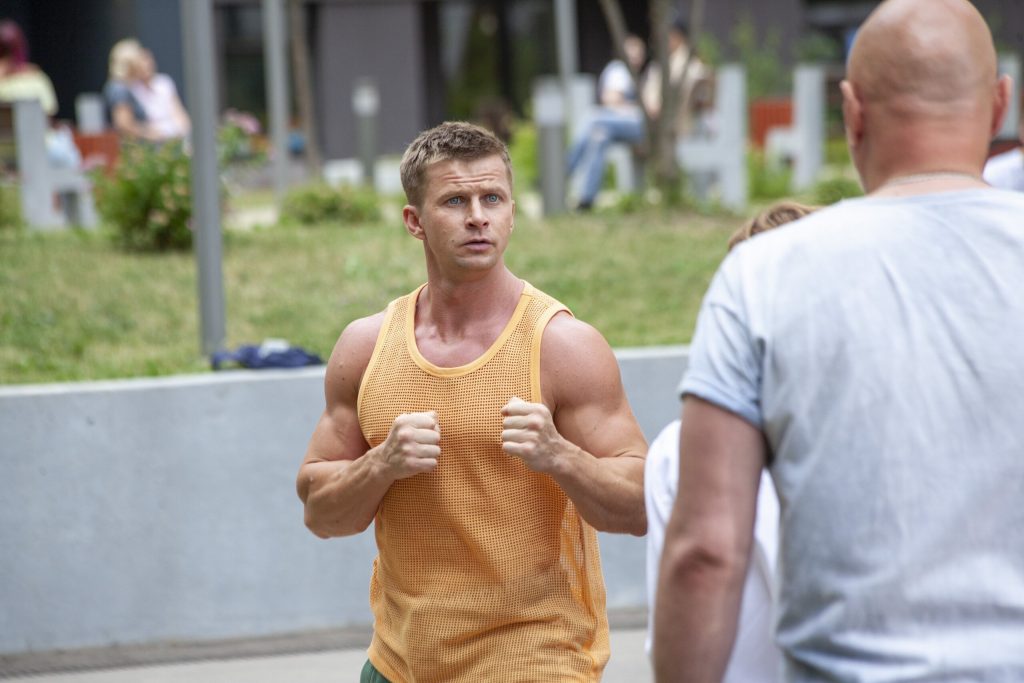 Also funny and extreme in the stunt scene of women's showdown for the heart of the robot, worked Actresses Yulia Alexandrova and Yana Koshkina.
However, the threat to the health of these stunt scenes, still worked as stunt-doubles. So, in the scene when the hero of Yegor creed actor Maxim Logashkin throws into the window glass, the stunt double worked Vladimir Stanislavsky. The difficulty of performing this trick was that due to the General plan of the frame, it was impossible to use mats, and the stuntman, take after take, fell hard on the concrete floor.

Separately, I would like to say about the film's operator Dmitry Yashonkov, who has not the first project with this team of stuntmen and Director Marius Weisberg. As the Stunt Coordinator Alexey Silkin says, 50% of the effectiveness of the stunt frame depends on the operator who can professionally and beautifully shoot a stunt scene. And, exactly Yashonkov, who always finds the right angle, and" tasty " shoots action scenes.
The trailer is always an advertisement for a movie, and it is the tricks that most often attract the attention of the audience. In the upcoming season, new stunt projects are planned with the participation of a team of stuntmen under the leadership of Alexey Silkin and Director Marius Weisberg.
In the meantime, we recommend that everyone watch "(Not) the perfect man" with perfect tricks!
Share: